As a result of the decline in cost of photovoltaic & wind electric systems, many people are considering incorporating these systems with their existing or planned residence. In most all cases, their decision will be based on economic benefits, both immediate & long term.
By designing the house as energy efficient as possible, the size of the alternative energy system can be greatly reduced, which significantly enhances the economic benefits. The appropriate technology suggestions listed below are design criteria that provide for the most cost effective system design, while reducing the overall home power demand.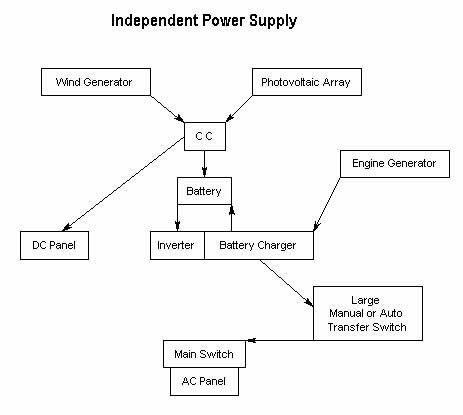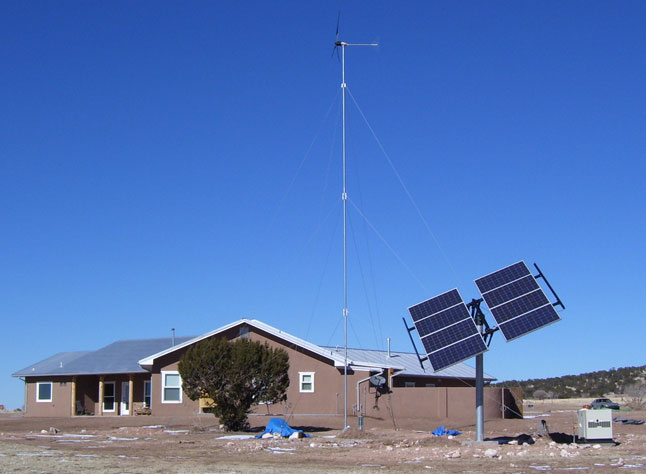 Potential home designs are subjected to simple economic analysis to compare the alternative energy system's cost to the expected benefits. In comparison to the engine generator supplied home, alternative energy systems provide a reasonable payback period (3 to 6 years), significant long term fuel savings, & low maintenance costs. Also, positive cost feasibility in building a new home using alternative energy vs. utility line extension begins with sites that are only 1/4 mile from the utility line.




By designing energy efficient homes that utilize appropriate technology, a homeowners' energy needs can be greatly reduced. Alternative energy systems can provide the homeowner with energy independence & longterm savings. Designing an energy efficient home is the key to increasing the economic benefits for alternative energy supplied homes. [Click here to view a large, independent, hybrid system]

Appropriate Technology for Off Grid Home Design

Mechanical

Gas space heating with wood burning stove.
Solar hot water system with gas hot water backup.
Gas stove or clothes dryer.
PV water pumping.
Composting or low flush toilets.




Electrical

Solar &/or wind electric system for charging batteries.
DC to AC inverter for conventional AC appliances.
DC wiring of house for lighting & water pumping.
High efficiency & long life flourescent lighting.
Remote display for system status & control for transfer switch (in kitchen area).
Backup engine generator (optional).
High efficiency appliances.




Architectural

Passive solar design.
Space for battery bank & backup generator.
PV panels on top of roof or in south facing yard.
Wind generator requires large yard area & the distance from the house to the base of the tower should be 110% of tower height.

How we can help.

All Star Electric designs & builds Independent Power Systems [click here to see example schematic]; from the preliminary assessment to final system adjustments. Contact All Star Electric now, or complete our questionnaire to request a proposal.